Landing pages are designed to boost business and e-commerce sites; their main purpose is to welcome traffic from advertising campaigns. As a site owner,a Landing page will assist you get valuable customer information that you will later use to market.
Why your online business needs a landing page
A Landing Page is an online marketing tool that will inform your customers of the services and products that you offer. The reason as to why your business will suffer without a landing page is because no one will know about you. For example, when you open a store selling electronic stuff, and on the outside, you haven't indicated what you do or what is inside your store. '
People will just pass by because they don't know. Therefore, when starting up an online business or setting up your company's website, you have to get a landing page because it is the final interface, which a customer will encounter. On this page, you will provide links or Calls to Action that will direct your clients to your products and services.
How to maximize the strengths of your landing page
Now that you have your brand ready to start generating leads, you will need to make sure that your page is appealing to your potential clients. There are various elements available on a landing page that if maximized will help generate leads. One of the most captivating features that most businesses use in their landing pages is a video with the context of use or images.
Important to note is that not all landing pages require the use of a video,therefore, they may not be really beneficial to your business. Though sophisticated you need to weigh your options and you might find that images work better for your business.
What about your main headline, the unique selling proposition (USP)? Competition out there is stiff, therefore, for your business to thrive you must sell yourself on it, How? Remember it is very easy for your customers to be swayed by another seller whom they think sells better goods and offers better services than you.
In this case, you will need to create a distinct image of why your product or service is better than that of your competitor. For example, as you create your USP, you could incorporate the biggest distinctive benefit the product has to a user, or explain the problem that your service or product will solve.
Another important element of your Landing Page is the form, as you create your form fields it would be wise to be conscious of the number of fields you include. Many irrelevant fields will hurt the conversation between you and your customers. Therefore, for information that you can investigate on your own better leave it out.
Also, make sure your sign up form is not hidden; it should contrast well against the page and not be buried in-between content areas. Most people when they get to a landing page are tempted to skim through fast, so they may miss the pop-up with the email, give them a second chance to sign up but this time use a larger form.
Leadpages and Unbounce are Landing Page builders and they each offer different features with their different paid plans. You will, therefore, select the best that will comfortably suit your budget but also offer the most significant features needed.
Leadpages Vs Unbounce – What What Makes Them Different?
Leadpages
Leadpages is a landing page builder, it is a tool that is used online to market e-commerce sites and businesses by collecting email subscribers. Leadpages helps in generating traffic to websites but it should not be confused with Infusion soft or MailChimp, which are email marketing software.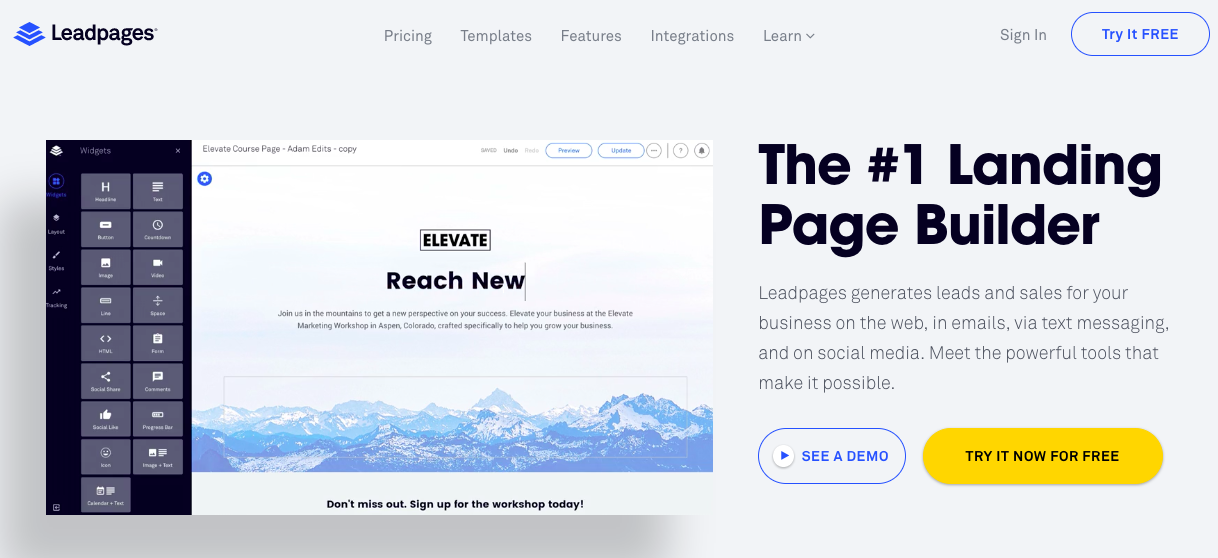 As much as LeadPages will help you attract many subscribers, it cannot be used to send regular emails to your email list. However, you can use LeadPages to grow your email list and then adopt another service for communication with the list.
Therefore, why would you want to use LeadPages, well, because they offer various features that will help you make high converting landing pages and let you use content upgrades to your site visitors? A content upgrade is an Opt-in-bribe that you will give to your visitors to get their email addresses.
For example, if you are operating a travel blog, you could give your visitors a printable PDF version of some of your blog posts, but you will have to hide it from Google, relax it is not illegal. The reason is that it might be duplicating some of the content in your blog post, which will lead to your content upgrade ranking higher in search results than your blog post.
Unbounce
As a marketer having a landing page that loads slowly can be very detrimental to your business because it will contribute to a high bounce rate and generate zero leads, and conversions. Unbounce however, enables its users to create Landing pages that are sure to convert.
Upon registering for Unbounce, you get a FREE 14 day trial and 20% off, for the first three months. For Leadpages, however, you will get the 14 day free trial but they have a catch, which is you will have to include your credit card.
When using Unbounce you are free to decide whether to pay for the service or cancel as they do not compel one to become a paid subscriber after the trial. Unbounce, besides being expensive is very flexible, their Landing page allows a user to market to their potential customers before they dig further into their sales funnel.
Differences between Leadpages and Unbounce
The two Landing Pages builder almost offer the same services to their users but there are some slight variations as discussed below.
Pricing
Unbounce prices are a little bit high compared to Leadpages, and the cheapest package from the latter is $25/m, which is the standard package. Features in this package are limited, for example, you will not be able to get the unlimited A/B testing for your landing pages. Whereas, if you purchase the cheapest Unbounce package "Essential" that goes for $79/m you will be able to access the feature.
The differences in pricing are mostly centered in the features; Leadpages offers a weekly group coaching for its users, a service that is not available with Unbounce. However, Unbounce has many exciting features and their performance level is too high as compared to Leadpages, because of the Speed Boost.
Creating your landing page with Unbounce, will attract rewards, how? Well, the Speed Boost feature in Unbounce enables your landing pages to load quickly when visitors visit your site. Google ads will then reward you with a high-quality score, which will, in turn, enable your ads to appear more often but at a much lower cost.
To this end, your site will most likely attract many visitors thus conversions. The most expensive Leadpages plan costs $321 "Advanced" and comes with about 20 features. Among the features is a 1-on-1 quick start call that will get you in touch with a Launch specialist to help you in the setup process. Worthy to note is that the service is not available in other lead paid packages.
Unbounce, on the other hand, has the Enterprise plan, which costs $499/m, when compared with the rest of its premium plans. The Enterprise plan has got more advanced features such as the Audit logs that keep track of user actions like sending or declining a user's invite or copying a page pop-up among others. The security of your page is, therefore, ensured.
Leadpages does not offer the Audit Log in any of its packages; however, it secures its pages via a third party service. What they do is that they obtain a browser-trusted certificate that will secure all your landing pages and even the sites that have been published to a domain that is connected to your leadpages account.
From the above, we can see that even though most of the Unbounce packages are a bit expensive they do offer some quite amazing and significant features that will inspire confidence in site management. The CTAConf Ticket (Call to Action Conference) is also one of Unbounce most resourceful marketing tool and is only available in the Enterprise package.
Whereas, Leadpages has the Trigger links and Alert bars an addition to its pop-up marketing strategies. Trigger links are simply copied and pasted to a broadcast email where you will use your email service provider. Your visitors will then click on the trigger link and will be registered instantly to your list or webinar.
The last package for both Unbounce and Leadpages, have a big difference in pricing and the former stands out at $199/m "Premium," while the latter costs $79/m "Pro" package. Important to note is that Premium is the most popular package in Leadpages despite the fact that it is short of four advanced features available in the Advance package.
The most significant feature in Unbounce's Premium package is the AMP Landing pages. When creating your landing page under Unbounce, AMP enables you to come up with pages that load quickly as they combine smooth loading with speed. In the end they enhance conversion and contribute to SEO; however, the Essential package does not have the feature.
Leadpages
If you run a small-medium business or a big enterprise then Leadpages is your Landing page builder, first is that it will provide you with numerous templates, fonts and stock images to kick start your Landing page creation journey and the best part is that you don't need to have any coding skills.
The Leadpages intuitive drag and drop interface will quickly customize various aspects of your landing page such as the background colors, images, contents, and styles. The success of your marketing campaign can be determined by third party marketing tools, which are integrated by Leadpages.
The third-party marketing tools are such as the Bing Ads, which attracts over 5 million searchers in your sites marketing sphere, and this is achieved when you send your Bing search engine marketing ads to the Leadpages landing page. Other digital marketing tools include Bright Roll, Instagram Ads, and Facebook Ads.
The above tools will enable you to reduce your sites bounce rate while improving on the conversion rate thus attracting subscribers to your business.
Unbounce
The good thing with Unbounce is that you can manage more than one client in a single account.A/B testing is permitted and you can optimize your site for mobile devices. Unbounce offers its users numerous templates to assist you when creating your landing page.
The speed Boost is one of its best features because it ensures that user's page load is fast for SEO, and ranking, so users under the service don't have to worry about relevance and conversion. Under Unbounce you can also, create, publish and test your landing pages before you use them. You will, therefore, not need to change your Web code and affect your visitor experience.
Alternatives and competitors
Users who cannot afford either Unbounce or Leadpages don't have to worry their heads off, because there are numerous other alternatives and competitors. For Leadpages you could go for Hubspot, Landingi or even the Instapages,whereas, for Unbounce users, you could access alternatives such as the ClickFunnel or Optimizepress. For Unbounce competitors you have the Freshmarketer and Crazy Egg.
If you're looking for more landing page builders, check out our favorites below.
Conclusion
Both Unbounce and Leadpages have been in the industry for a while and they both offer amazing features for users who want to create landing pages for their e-commerce sites. However, Leadpages is the most affordable when compared to Unbounce, therefore, for those who are just starting or run small-medium businesses leadpages will be great.
Unbounce, on the other hand, has some pretty amazing and advanced features but if it does not fit your budget there are other alternatives that you could opt for as stated above. However, both medium and large business could find that Unbounce is effective for their sites as they tend to be comprehensive and robust.