Running an online store requires one to be on toes, which means you have to be on the lookout for any current trends that other businesses are adopting to stay relevant. Given that your landing page is probably going to be one of the first elements on your online sales funnel, it better be done right for maximum conversion.
There are various Landing page builders that users can adopt, two of which we will look at are the Leadpages and the Instapages. Both of these landing pages builders have amazing features that will help you convert traffic into sales, but they come at different prices with unique features. For example, Instapages provides its users with a heat map.
What is the value of a landing page to your business?
The first point of contact between you and your prospective online customers is the landing page; therefore, you have to make a very good impression at this stage.
A Landing page is an avenue in your digital marketing strategy that enables you to nurture leads;therefore, many landing page builders give users an opportunity to generate qualified leads via the form fills.
Paying for hosting and advertising your services and products without the use of a landing page is a flawed marketing strategy. So, since your aim is to make a first good impression be sure to provide value for your visitors. How? Well, you could provide them with links that will direct them to your services and products or provide them with a CTA (Callto Action) button.
Integrating links in your Landing page leads to clicks that kick starts your customer's journey. Landing pages will help promote any new products or service that you have introduced to the market. Let's say you are running an e-commerce site, where you sell sculptures made by casting metal for interior decoration.
Your new finished piece of unique casting needs to get out there to your customers, the question is how? I know the social networking platforms are the first thoughts that come to mind, but what about creating a dedicated landing page for the product. The latter has the ability to zero in on a product enabling it to become visible to the real world.
Customers are always in the habit of vetting different vendors before they make a decision that will have a positive impact on their Investment, and this is where your landing page comes in.
A good landing page is concise as it lays out the benefits and value that your product will offer your visitors, this type of directness is relaxing for people looking for solutions to their problems. The cherry on top is that a Landing page will help build your site's credibility. If you could just incorporate some of your current and former customer testimonials.
Did you know that a quote from one of your happy customers will personalize your brand experience and prove to your potential clients that there are indeed benefits of using your products or services?
Instapages Vs. Leadpages: what do they do and how effective are they?
Instapages
Instapages is a service that lets its users build landing pages for their digital marketing needs and to carry out promotional campaigns. However, just like any other product or service, Instapages has its good attributes and shortcomings. For example, the service provides its users with one font, to be applied to every paragraph element on their pages.
One font is also provided for the headline, okay, I know it might not be very appealing to apply different fonts to your landing page, but having a variety of options isn't bad either. Not to worry though because Google's got you covered with its free open-source fonts that have been optimized for the web.
In addition, there is also the Adobe Typekit that contains a good number of fonts, which can be used for a web application, you must note, however, that the service is subscription-based. Unlike other page builders, Instapages also offers its users the "Thor Render Engine." The unique service is very significant to the success of your landing page because it enables 3x faster loading.
Google Page Speed Insights top-ranked the Instapages load speed. So, how will "Load Speed" impact your Instapage landing page? The first positive impact attached to the 3x fast loading is that you will rank top in search engines and your paid conversions will increase greatly. Your visitors will have an easy time browsing because of the enhanced load speed and you will also experience a reduced bounce rate.
One of the rarest things about running an online business is finding out exactly what your visitors are interested in, what item or service interests them the most in your site. Having the above information will help you in optimizing your page to their satisfaction. Well, you can get this service in Instapages because Leadpages does not offer.
Instapages gives you the opportunity to find out how your visitors navigate in your site. The Heatmap visualizer tracks click and mouse movement, and by having this information in combination with the A/B testing, a user is better positioned to correctly optimize their pages and direct their customer's to areas that contain the most vital information,which will eventually lead to a Call to Action or conversions.
Leadpages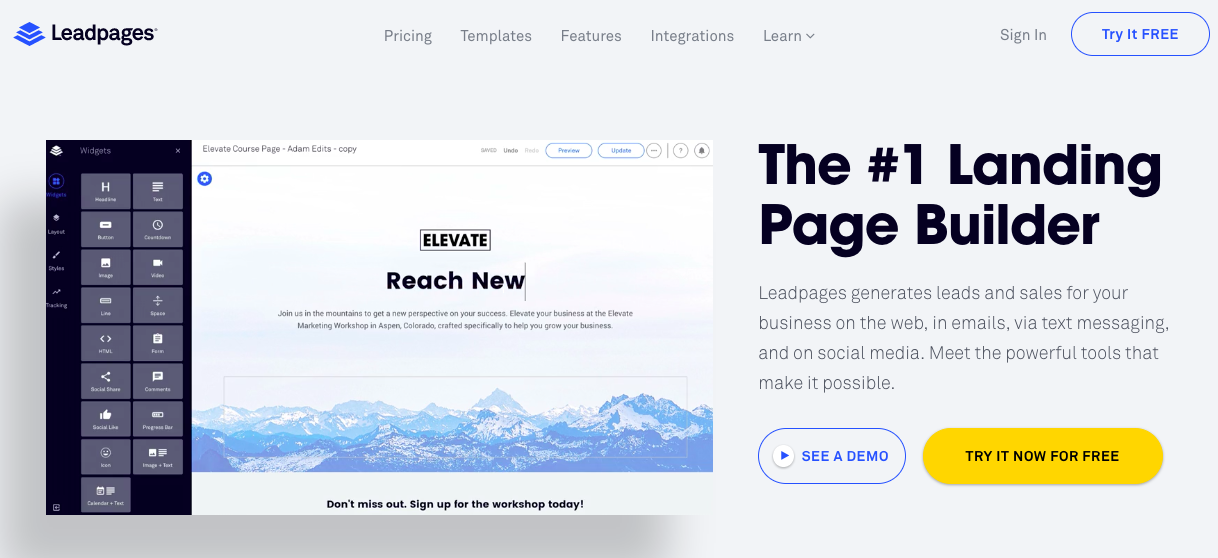 A landing page is very resourceful when adopted as a marketing tool. However, setting up your landing page can sound like rocket science until you meet Leadpages. The landing page builder does not need you to have CSS or HTML knowledge, as it gives users a chance to build their own landing pages by customizing their template.Another advantage is that you can try it out for free for the first 14 days.
Leadpages allows its users to customize the images in their landing page to suit their brand; they can also change the background colors and the fonts. Their editor provides the drag and drop building option, where you can drag and drop pages or just adopt one template.
Another advantage of Leadpages is that it accommodates integrations. As a user, you are able to use the services of the integrated applications to enhance the customer experience. For example, as you conduct your email marketing campaign, you could submit contacts to your Active Campaign lists in the process of building the lead capture tools.
The Campaign Monitor is a powerful email marketing tool, as it enables one to keep up with their leads, i.e. it imports and updates your leads contact data. You can, therefore, create and send emails to your clients, and you can also track and manage branded emails.
On the other hand, Leadpages offers its users a good number of significant integrations in terms of Digital Advertising, Analytics, and Market automation. In addition, not all landing pages allow its users to sell products via the checkout widget especially not with the Instapages.
Leadpages however, gives its users the option where they can sell their products in the checkout page and does not limit them on the number of landing pages that they can create or the number of visitors that can access their sites.
Instapages and Leadpages Pricing
Since both landing page builders offer good services with regards to a user's budget and needs, it would be wise to evaluate the value of each package and which paid plan to adopt as a beginner, for a growing business or for marketing agencies.
Instapages
According to Instapage.com, there are only two paid plans, the Core plan, which when billed annually costs $99, and the Enterprise plan that can be customized. The latter turns out to contain the most features, including an SSL certificate for you and your client's security.
Some of the special features that are visibly lacking in the Core paid package include, custom fonts, Real-time visual collaboration that enables a number of users to work on a project in real-time, Direct lead- Bypass that will send leads to your CRM (Customer Relationship Manager) or the marketing automation platforms such as the Hubspot.
The Core paid package contains only the most important features that a user will need to build a conversion-optimized landing page. With this package, you don't have to worry about security issues because an SSL certificate is automatically generated. You can also track how your visitors' interact with your site. However, it is good to use the heat maps only after attaining some amount of traffic per screen.
Leadpages
Leadpages offers three paid plans and the cheapest one comes at a price of $25/m "Standard." The plan is best suited for startups or new businesses as all the basic features required are provided. For example, you will get a Facebook and Instagram ad builder and in case you get stuck you can contact tech support via their email. You will also get unlimited pop-ups and alert bars to help in marketing.
The second Leadpages package goes for $48/m, also known as "Pro" and has an addition of four extra features compared to the Standard package. They include 10 Opt-in Text Campaigns, Email Trigger Links and Unlimited A/B Testing. You also get to enjoy the fruits of your labor via the online sales and payments feature. This package is best suited for growing businesses.
Lastly, we have the Advanced Package at $199/m, the package comes with advanced integrations, five Pro sub-accounts and a 1-on-1 quick start call with a leadpages launch specialist, who assists users in setting up accounts. Leadpages gives interested people a 14-day free trial though you will have to provide your credit card details and is best suited for marketing agencies.
What's new?
The best way to retain users is to keep improving and adding new features, to this end Leadpages and Instapages have added a few new features that help enhance user experience.
Leadpages
One of the latest developments of Leadpages is "Shutterstock" that offer the finest photography. Though you will have to pay for the service, it is totally worth it. Leadpages provides its users with a variety of images to help them build professional landing pages. By teaming up with Shutterstock, Leadpages users can now add premium images via the Drag and Drop builder.
Also, included in their product updates is how users can choose the best email marketing platforms for their small businesses. Given that the migration of an email service platform is a headache of its own, Leadpages advice its users to choose the right Email Service Provider (ESP) from inception.
The above can only be achieved by evaluating their email marketing goals, find out exactly what they want from their email service providers, evaluate the most popular email providers and how they stack up.Lastly, they need to find out the email marketing tools that integrate well with their Leadpages account.
Instapages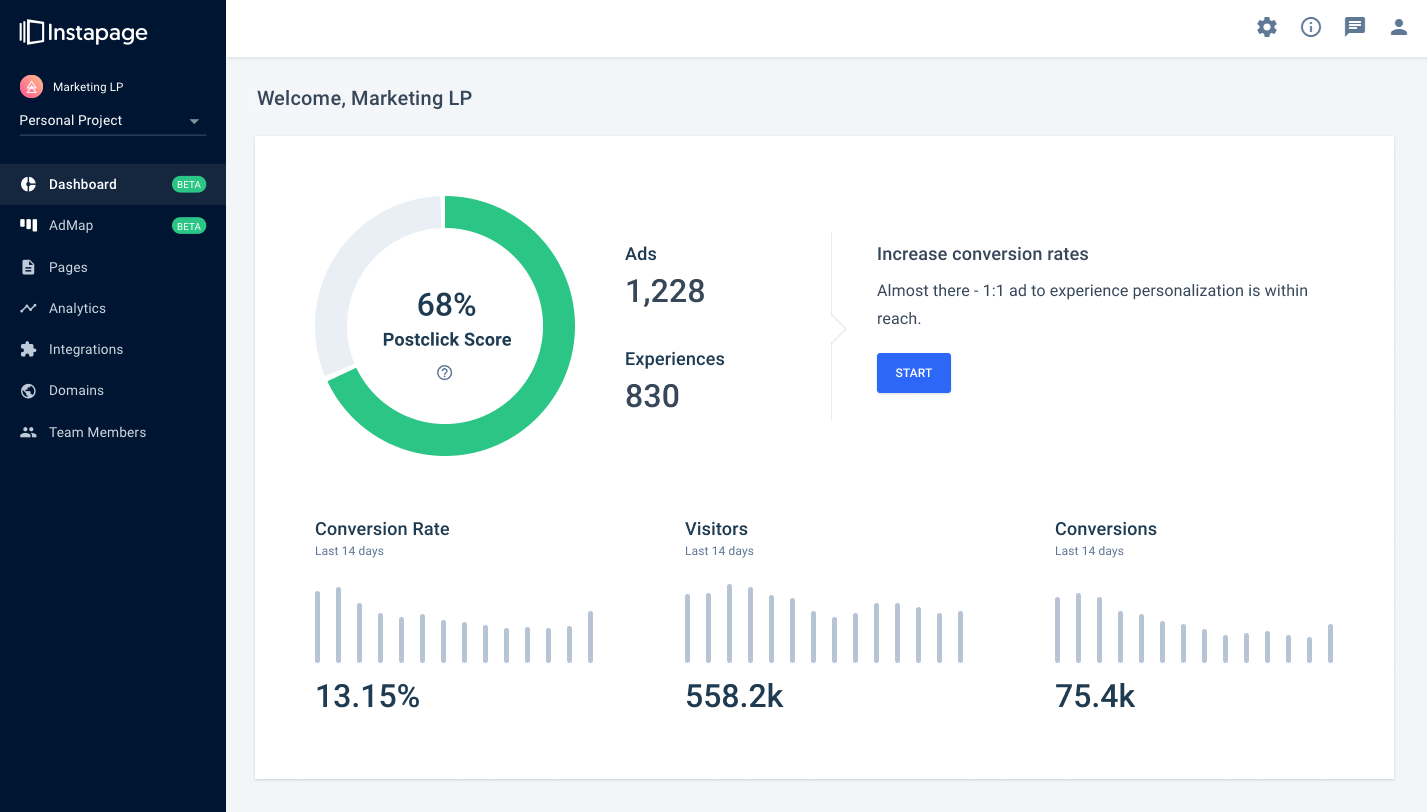 Instapages has redesigned its website to relate more with its users, besides that they have also included an advertising cloud on their homepage and offers personalized post-click experiences. The purpose of the post clicks is to ensure that visitors who click on your ads proceed to your marketing funnel and finally end up becoming your customers.
They also recently updated the CSS editor that enhances flexibility and precision. The Inline Style Editor enables the premium users to custom style some of their post-click landing page elements. The feature allows users to edit, create and delete any CSS property. The adjustments are to help a user accurately represent their brand.
The problem, however, is that only experienced designers, who are well versed with web development skills can achieve full flexibility and precision from the Instapage features such as custom alignment, Text and Shape Padding, and Transforms and transitions. In addition, enabling the CSS module disables the normal editing panel giving you maximum control.
Support Services
The Leadpages offers its Standard users Tech Support via email and the Pro users are eligible for two services; one is Tech Support via email and the second one is Chat support. The Advance users have access to a 1-on-1 Quick Start Call as they set up their accounts.
Whereas Instapages offers its users a live chat for 18hours in a day and phone support is offered from 9am to 4pm, besides the above, they also have a knowledgebase that is constantly updated to help users find quick answers within the help center articles.
Landing pages are great, but if you want more leads or sales, then you build a sales funnel.
Conclusion
Instapages seems to be giving Leadpages a run for their money, with the unique services that they have rolled out in their paid packages. For example, the heatmaps feature can offer so much insight with regards to the running of one's site. What's more, is that customizing Instapages templates is quite easy as it gives you precision and enables one to arrange elements exactly how they want them.
Leadpages, on the other hand, offers a number of significant features that will see you convert visitors into customer. The best part is that as your business grows you move to a higher tier package that grants you access to even more unique features. In the end, it is the best place for beginners who want to grow their businesses.