Lead Pages: There are two things that come to mind when the word Lead Pages come up, "Conversion and Subscribers."Important to note is that Subscribers lead to conversion. Well, if you don't have a website, you may want to know how you will get subscribers. It's simple; just get a good lead page.
A Lead Page is a good site to use if you want to grow your email lists via webinars, and the conversion factor is realized when you use the drag and drop feature to customize various parts of your landing pages for sign-ups. You could also use the alert bar to attract and retain your site visitors, or the lead links that will automatically create for you a subscriber list.
How to use Lead pages
Before we learn how to use Lead pages, it is important to know the components that you will use in the customization process of your landing page. The Lead page is what you are going to use to create your landing pages. The creator, therefore, comes with both free and paid templates.
The template feature will be very useful when you are creating a new landing page, you will, therefore, just edit the text in the template and publish. There are also a good number of marketing integrations that come with the creator. To this end, you will be able to connect the most suitable email marketing service such as a webinar, or a payment gateway.
The drag and drop editing feature enables you to move elements around as you customize your landing page; the feature is seamless and works with no glitches. You will position your cursor on an item drag it to your preferred position and drop, as simple as that, very intuitive.
Another feature is the A/b testing, the feature allows a user to carry out a split test and determine the version of your landing page that will perform the best before using it. Also, Lead Pages is the host of the landing pages that you will be using, a service that is done for you for free but you can always use your domain name if you want.
Lead Pages will also make it easy for you to hook up WordPress plugin, Joomla and other websites to your website, otherwise known as website integration. You can, therefore, hook up as many websites as your paid plan allows.
The Lead Pages also provides its users with dashboard analytics, which assist in analyzing large volumes of data in a bid to investigate trends and determine the probable outcome. They also help you discover some useful insights that could attract positive results in the running of your website.
Now how do you use leadPages?
Choose a Template
On your lead Page interface you will be provided with about 130+ free templates but remember, you are not restricted to the ready-made templates and you can always start from a totally blank canvas. I would, however, suggest for users to go with the templates and just customize them to fit your niche.
Important to note is that many people have used the various templates in Lead Pages to create stunning landing pages for their sites, why not you?
So after selecting a template, Lead Pages will ask you to give your new page an internal name, where you will be directed to the drag and drop editor. After which you will be presented with a sample image of how your page will appear.
On the left sidebar, you will find the page styles, and here you will find a suitable font and your landing page background images among other things. You can then create a grid layout for your landing page, in the form of rows and columns via the layout option.
Tracking
Page tracking is also available in Lead Pages and with this option, you can set up your SEO settings, and the tracking and analytics code such as the Google analytics. On your newly created landing page, you will click on the lead page option, move to select the tracking codes, and in the head or body section, you will then paste your code.
 You will also have access to widgets, which will enable you to insert features like a new opt-in form. The created opt-in forms are used by the visitors to your site, who are interested in the services or goods that you offer. The blue image on the right side is a sample opt-in form. 
The biggest advantage with LeadPages is that you don't have to be an expert to create your own landing page. You will not use any tough programming codes and at some point, you will even wonder why people spend their hard-earned money hiring someone to make for them a landing page. As you have seen most of the stuff are the do it yourself kind of things.
A form widget is also available and when clicked it will direct you to a new sidebar and here you are free to customize different features of your form. This also means that since Lead Pages provides you with a form widget you can completely customize the information that is input into your forms. The sidebar, therefore, enables a user to add some unique form fields.
Webinar Integration
Furthermore, still in the sidebar interface, you will be able to integrate Webinar or email marketing services and you can also decide what to do with the form after your visitor click submit. To integrate webinars on your landing page you will copy the API key from the webinar jam.
The latter is a webinar hosting software,] that is mainly used for online marketing such as event streaming or live casting. Next, you will tap on the advanced settings that will lead you to API custom integrations; here you will copy the API key and send the registrants to the webinar jam.
Now that you will be setting up a new form, you will have to select webinar jam as your pages integration service and here you will be provided with a number of webinars, where you will choose the one that you want people to interact with.
For example, if you choose Ever webinar, the registrants will then be signed for the available time spaces. However, you can also give your visitors the freedom to choose at what time will they be comfortable to attend the webinar.
To achieve the above, you have first to create a code with webinar jam then adopt an HTML widget under lead pages to paste the registration embed code. Now, not all your participants will have an email address so you can ask for their phone numbers and last name. 
You can either decide to send your visitors to the thank you page, or keep them on the page. You can also choose to create lead magnets and this you will achieve by emailing them a file.
The Check-out widget is a seamless payment page, and this function will let you receive payment through the Stripe service and deliver digital products. In other words, the widget is a conversion optimized payment form and which will enable you to sell your e-books and other digital products.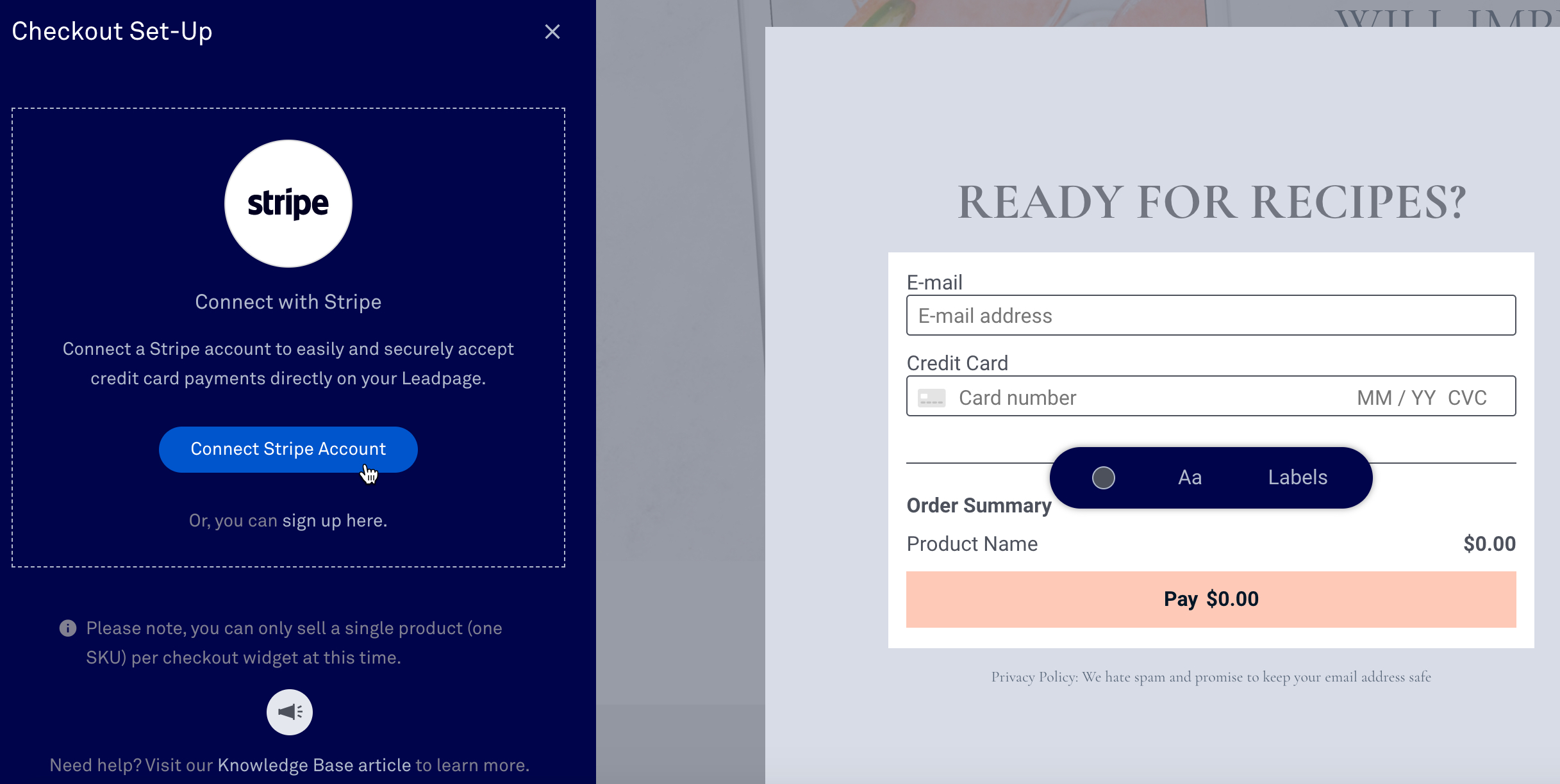 In recent times Google has majorly ranked websites using their mobile version, you will, therefore, have to optimize your landing pages and make sure they look just as good in mobile gadgets. Lead Pages, therefore, has an accessible responsive preview in the right part of the editor that will assist you to achieve a mobile compatible landing page.
Lead Pages also enables you to determine how much traffic goes to each of the variants. Different landing pages will have different conversion rates and traffic, Lead Pages, therefore, provides you with a tab that will enable you to take a look at the conversion rates and the traffic of all your landing pages. They also allow users to integrate third-party analytic tools for more detailed service.
You can also use lead pages to create a Lead box. The Lead Boxes are pop-ups that can trigger automatically or as a result of a specific action. A Lead Box is created via the drag and drop editor and when publishing you will decide how you want it to be triggered. Options are either by a button link or it can be a timed pop-up, a plain-text link, an exit-Intent pop-up or an image link.
Alert bars
Lead pages can also be used to create alert bars; a simple method would be to use one of the pre – made layouts and then you customize the text, after which you can publish the alert bar on landing pages or on the sites that you have built with Lead Pages. Most important is that your alert bar's success can be tracked by the analytics tool.
The alert bars that you created via the Lead Pages are used to grow your websites email lists, drive signups and promote offers. To create an alert bar on your landing page visit your accounts dashboard, and here you will find the conversion tool, and then you will click on the Alert bar option. After which you will then select on the Create New Bar tab and here you can name your bar.
Can't decide between LeadPages and Instapage? Check out our comparison review below.
How much does Leadpages Cost?
If you are a website owner and you are not converting as you had projected then you need to revamp your landing page. Lead pages are priced differently and the pricing comes with the different categories. Let's say, for example, you are a new ecommerce site owner and want to purchase a lead page, which one would you go for?
Lead pages comes with three different pricing plans; first, there is the Standard that is mostly used by beginners or people who are new in the business. Second, we have the Pro and this plan is perfect for already existing businesses that are growing, and lastly, we have the Advanced. The latter is used by marketing agencies.
Standard Plan
Back to my question, which leads page would you as a beginner in business go for? The Standard!You got it right. For new beginners, you still need to learn the ropes and it would be unwise to jump to the Pro plan when you are not well versed with how the lead pages work. So, for new businesses you will be lucky as you will only have to pay $25/m and please do not forget that it is billed annually.
Why annually, I know many people will ask and even be skeptical about purchasing the package, but the annual billing actually works for your own good because you will now be committed to making something good out of your hard-earned cash. It will encourage commitment and dedication, and who wins at the end,you of course.
Another advantage of purchasing a lead page is that you wouldn't have to again pay someone else to create a sales or a landing page for your site. So by purchasing the Standard pack at $25/m, you will be able to at least host one website and you will have access to unlimited landing pages.
Landing pages are an important feature in the digital marketing world, their purpose is to market or advertise the products or services that you offer in your site, therefore, the unlimited landing page offer means that you can create as many as you can. So the question is why would your site require many landing pages?
One is because landing pages that are content specific tend to drive in a lot of traffic and increase SEO performance. The Standard plan will give your site unlimited Alert bars, the feature attracts you visitor's attention but it will not get in the way of the content that they came for, your clients can also close it and it will disappear from the view.
On your website, the alert bar will be used to showcase a sale and you can include a countdown timer so they know that the discount will be on for a limited time. In addition, the alert bar will inform you of the sales increase and if your visitors are using the discount codes and in overall you will be able to weigh if the marketing campaigns are successful.
As a new business beginner, you have to make sure that youcreate awareness of your products, let your prospective clients know about the services and products that you offer. To this end, the standard pack Lead Page will give you a Facebook and Instagram ad builder. The feature will enable you create an ad, and to access it you will click on the Facebook icon.
Then customize the content that you want your visitors to see that suit your business requirements and when done just click Promote and your ad will be launched. The media and text content in your ad can be edited by the Ad Creative option, where you are free to customize the ad's copy to reflect what you are offering.
In recent times, Instagram has garnered quite a lot of users; this will thus be a good place to market your site. Therefore, in the audience panel of your ad's settings, you will check and ensure that the "Run promotion on Instagram has been selected. Facebook will then include Instagram as ad placement, and you can preview your ad's appearance on the Instagram tab under the ad's preview pane.
All these amazing features and many more are available to you under the Standard package, what's more, is that you can access Tech support through emails and to make sure you become conversant with the features of your lead page you will be coached as a group on a weekly basis. Now, what is stopping you from starting your own e-commerce site with the standard package?
Pro Plan
Lead Pages will walk with you from the start-up until you are established but remember as you grow, your income increases, and you will also have to look for more advanced features. Therefore, you will now purchase the Pro package. Feels good to reach the Pro level, don't you think? Well in this package you will have to part with $48/m and here you will get five more additional features from your previous plan.
The first one is not very conspicuous but it is there and is the number of websites, initially in the Standard plan you were only allowed one but in the Pro, you get additional two websites so now you have three. Just like the previous, you will be billed annually, let us now look at what additional features you will be getting.
First, we have online sales and payments, and this feature is the most important in your landing. Why? Because you are now converting, you are now reaping the fruits of your labor. The online sales and payments option enables you to make sales; you will deliver your digital service or products via the pop-up with Lead Pages.
Pop-ups are a good way to attract and retain customers on your webpage. Especially, the exit-intent pop-up, these ones appear at the end when a user is exiting your site, and the magic of it all is that your site might be exposed to a very high percentage of sign-ups. The latter will grow your email list and promote your products and services.
The Pro package is dedicated to your growth with the Email trigger links. This feature is more like a marketing strategy because it enables marketers to send automated messages with regards to a user's behavior. The trigger-based emails are a result of specific actions by the visitors that visit your website.
The fifth feature is the 10 opt-in text campaign, in this service your customer could allow you to send them product information or messages. Therefore, when a client opts in, you will send them texts, this remember is a marketing tactic. Now, you will not stop sending the messages unless the recipient opts out.
The Advanced Plan
All the three Lead Pages priced packages have a 14-day free trial; with "no obligation," the trial will help you in making a choice for the package that best suits your business category, whether starting, growing or marketing. The Advanced paid plan is the last of the three Lead pages and is the most highly-priced as it comes with advanced features mainly used by marketing agencies.
At $199, you could first get a free trial and weigh out your options and by acquiring the package you will get a 1-on-1 call with a LeadPage representative, who will help you in the process of setting up your account. Other services include, 50 Extra opt-in text campaigns that will enable you to collect leads, worthy to note is that the 10 opt-in text campaigns have not been mixed up with the 50 extra provided before.
Also, under the Advance package, you will be able to use the Advanced Integration Services, this means that you could process payments, make sales or deliver digital products by integrating your Stripe account. All this, remember is done inside Lead Pages and you also have the advantage of sending your leads to advanced integrations like Marketo or Pardot.
Conclusion
Lead pages provide elements that when arranged in sales funnels form will enable your site to attract and retain prospective clients, for example you could utilize the opt-in-forms, the calls to action "CTA" among others. Enough page elements have also been provided with LeadPages so you can customize your landing page to suit your business.