Do you ever wonder if there's some kind of force that nudges you to click on an offer or enter a store and then actually make a purchase, even when you hadn't planned to? Or if that thing is something you've been planning to buy?
Well, what you feel, that compulsion is the power of online marketing done right. And this is only possible when a marketer has a robust sales funnel (and the best sales funnel software, by extension).
For online marketers, their greatest win lies in the conversion of leads, and for the conversion, they have to create a system that attracts nudges, and subtly compels online visitors to buy a product or even subscribe for a service like an online course or a webinar.
Therefore, it makes total sense for you to want to learn all the essentials of the customer purchase journey if you are going to run your online business successfully.
A deep understanding of this process is critical as it allows you to tap into the unique needs of your customers and prospecting leads. And you know that this process works when somehow you can make your audience wonder how you knew they needed what you're offering. That 'mind-reading' power comes from the best sales funnels.
A sales funnel is that invisible force that cues a stranger who comes across your site or online store's offers through social media ads, to actually take a closer look into your offer, consider buying that product, and place their order.
The catch, however, is that most of us don't quite know how to create the best of sales funnel. So, since we'd like you to stop making excuses for not having the best systems to encourage lead generation and lead conversion, we've explored the world of sales funnels and have come up with a list of some of the best sales funnel conversion software.
About sales funnel builders
Every time a prospect visits your online site, there's a chance that they will not reach the other side of the isle or the counter to complete the order. But you want to make sure that as many of your prospects as possible visit your site and take a specific action(s).
You need ways to encourage your site visitors to scroll longer and click on an offer. You want your visitors to find what they are looking for once they land on your page. A sales page builder is what helps you meet the needs of your prospects, as well as your business goals.
What do sales funnel builders do?
Sales funnel builder's primary role is to connect all the necessary pieces of your business/ marketing process to ensure that you turn a total stranger into not only a customer but a repeat buyer.
A sales funnel builder will also generate and boost your sales to help your business break the ceiling. Contrary to popular beliefs, websites are not the most critical parts of your online business because they only house your online products. A website isn't designed to bring in new prospects, generate leads, retain customers, to make sales, or to follow-up on your leads automatically. Not really.
Although a website helps you make these things possible through SEO optimization, it barely scratches the surface when it comes to the success of your online business. You need to do more, and the good news is that you can do just that by investing in the best sales funnel builder.
Yes, you heard that right, the secret to online marketing success is funnels. Sales funnels subtly guide your users through a series of processes that offer rich and interesting content. Thanks to sales funnels and sales funnel builders; you get to streamlining your online marketing process, creating a better and a well-rounded buying experience for your users.
Best sales funnel software Tools
The best sales funnel software allows you a comprehensive view of your sales process and the marketing efforts from a centralized place. The reason for this is that the best sales funnel software will feature everything you need to run a successful online marketing campaign.
These features include email marketing services, landing page editors, as well as hosting platforms for webinars and online courses, all under one roof. So, if you are looking for the best way to get started on your online business' marketing without having to break the bank, here necessarily are some of the best sales funnel software you might want to try out.
1. ClickFunnels
On top of our list of the best sales funnel software is ClickFunnels. ClickFunnels is easily one of the best sales funnel builders being a top-rated all-in-one sales funnel builder that will help you build more than the best sales funnels. You also get to build landing pages, create webinars, create sales pages, build and create online courses, write up sales scripts, and you could also create and run membership sites.
ClickFunnels also helps in the management of affiliates. So, if you are looking for an all-in-one marketing solution that will help you create and run a successful online business, you might try ClickFunnels.
On top of all its features, ClickFunnels also teaches you how to create a sales funnel, how to manage online marketing, prospecting, how to close sales, and of course, the art of building qualified email lists and their subsequent segmentation.
Basically, you will learn everything about creating and using an automated sales funnel with ClickFunnels. ClickFunnels helps you do everything listed above thanks to a host of features it offers. These features include:
High-quality Pre-built templates
One of the essential features of an online builder, whether you are talking about a landing page or a sales funnel builder, is the availability of templates. And we are not just talking about traditional templates that have few moving parts, but top-of-the-class modern and professionally-built templates.
ClickFunnels fits this bill with its robust, easy to use, modern and professional templates. Using these templates, you can build the most complex of sales funnels, and the best part is that you can do it even without knowledge of the sales funnel building process.
The sales funnel templates on the site will help you build and grow your customer base, generate more leads, and grow your sales.
The drag-and-drop sales funnel software
With ClickFunnels, you get to drag-and-drop the elements of your sales funnel swiftly and without any coding skills thanks to the drag-and-drop editor.
Third-party software integrations
The success of your online marketing strategy depends on how well your marketing system is connected to other internet marketing services. With this in mind, you need to ensure that your sales funnel well connected with other marketing tools and platforms.
ClickFunnels makes everything easy with its wide range of software integrations in different categories. ClickFunnels has email marketing integrations, payment gateway integrations, webinar integrations, and SMTP integrations, among others.
A/B testing
You cannot risk running an online campaign with less than stellar landing pages or sales copy which is why ClickFunnels allows you to test variations of your online campaign materials. Thanks to the A/B split tests, you will be run your campaigns using the landing page, or sales funnel that promises the best results.
Affiliate Marketing
Besides sales funnel creation, you can also run your affiliate marketing business with ease using ClickFunnels. ClickFunnels' affiliate marketing function is under one of the features of ClickFunnels called the ClickFunnels Backpack.
This Backpack feature allows you to assign affiliate links to your marketers and even run a whole affiliate marketing program for different products. In this management system for affiliates, your affiliate marketers will deal with your marketing needs, while managing your sales on ClickFunnels' dashboard.
ClickFunnels also boasts another interesting feature which allows you to share your sales funnel with your coworkers and clients. This funnel sharing functionality is often a bonus for bloggers and affiliate marketers. The other features offered by ClickFunnels include a membership site and an inbuilt autoresponder system.
Pricing
ClickFunnels is not; unfortunately, the cheapest sales funnel builders on the market, although the price is worth it, given the features you get. There are two pricing plans, the Startup and the Etison Suite Plan going for $97 and $297, each priced monthly. To help you decide if ClickFunnels is the right option for you, there is a free 14-day trial period.
Pros
Feature-packed with everything you need to run a successful online marketing campaign
A/B split tests
Powerful integrations
Tiered pricing
Affiliate marketing
Inbuilt-autoresponder system
Funnel sharing
Cons
The learning curve is steep
It's quite expensive for startups and small businesses.
2. Kartra
Kartra is one of the best sales funnel builders/ software on the market today because it's not only cheap, but it also houses just about every online marketing functionality you need for the best results in your customer journey. Although Kartra is a little fresh in the online marketing world, it's making waves and turning businesses around.
Pre-made funnel templates
Kartra boasts done-for-you (DFY) sales funnel templates designed by the world's leading marketing experts. Thanks to these DFY templates for sales funnels and the sales funnels campaigns, you don't need any coding skills and the best part is that you can edit the template to match your needs.
So, you get to edit your product's name, the product image, and also incorporate any other essential branding assets, launching your sales funnel full-swing into action. Kartra also features a plug-and-play sales funnel which features marketing automation sequences, as well as pre-written (professionally written) sales copies.
Editing functionalities
Kartra features a drag-and-drop editor that allows you to tweak the elements of your sales funnel with ease. You can use the editor to edit texts, countdown timers, videos, as well as pages, in minutes.
Sales-driven campaigns
The other impressive feature offered by Kartra is its automated sales-driven campaign system. Thanks to the automation, you get to pour all your marketing/ sales on an automated mill from which you can create and launch all your sales sequences, as well as the list-building process with ease. All these automations are made possible by Kartra's inbuilt autoresponder.
Split Testing
In the online marketing world, one of the most important functions offered by a marketing tool is a split-test function. With ideas flooding your mind and the need to match the unique needs of your audience weighing you down, you get to present two variations of a funnel to your audience, analyze their responses, and then use the high-converting sales funnel to run your online campaigns. Therefore, you not only save time but also avoid poor or non-converting sales funnels altogether.
Integrations
For seamless tracking of your customers and leads, and also for ease of managing all your marketing campaigns, processes and sales, Kartra boasts integrations with powerful third-party companies. You will enjoy access to powerful integrations for payment gateways, as well as a marketing software.
Membership sites
If you offer online courses or host webinars and you wish to deliver content only to your authorized/ registered members, you'd like that Kartra allows you to build a membership-based site with ease. So, whether you are hosting a training session online or offering courses, you can upload your drip contents and also upload files with ease.
Affiliate Marketing Management
Are you an affiliate marketer seeking a robust management system for your affiliates? Kartra's got you. On the platform, you can check the progress of your affiliate marketing program, track and set commissions, assign affiliates, and even manage your affiliate payouts.
Pricing
The features might be just perfect for you, but is the price right? Kartra allows you to test-drive its features for 14 days for a dollar. After the trial period, you can decide if Kartra is the best pick for you or not, and if it is, you can subscribe to any of its plans.
There are five subscription plans offered by Kartra, and they offer different features matching different business needs. The Starter plan goes for $89/month; Silver goes for $149/month, Gold will set you back $299/month, the Platinum plan $499/month, and the Diamond plan $699.
As you'd expect, the higher-tier plans offer more features and are often ideal for bigger businesses, marketers, and marketing agencies because they offer more resources.
Pros
It's feature-packed with everything you need to run an online campaign
A/B split testing is available
It has a short learning curve
Powerful Integrations
Ease of use
Tiered pricing
Done-for-you funnel templates
Pre-written copy
Cons
There are few training materials
The price goes up as your business grows
3. Convertri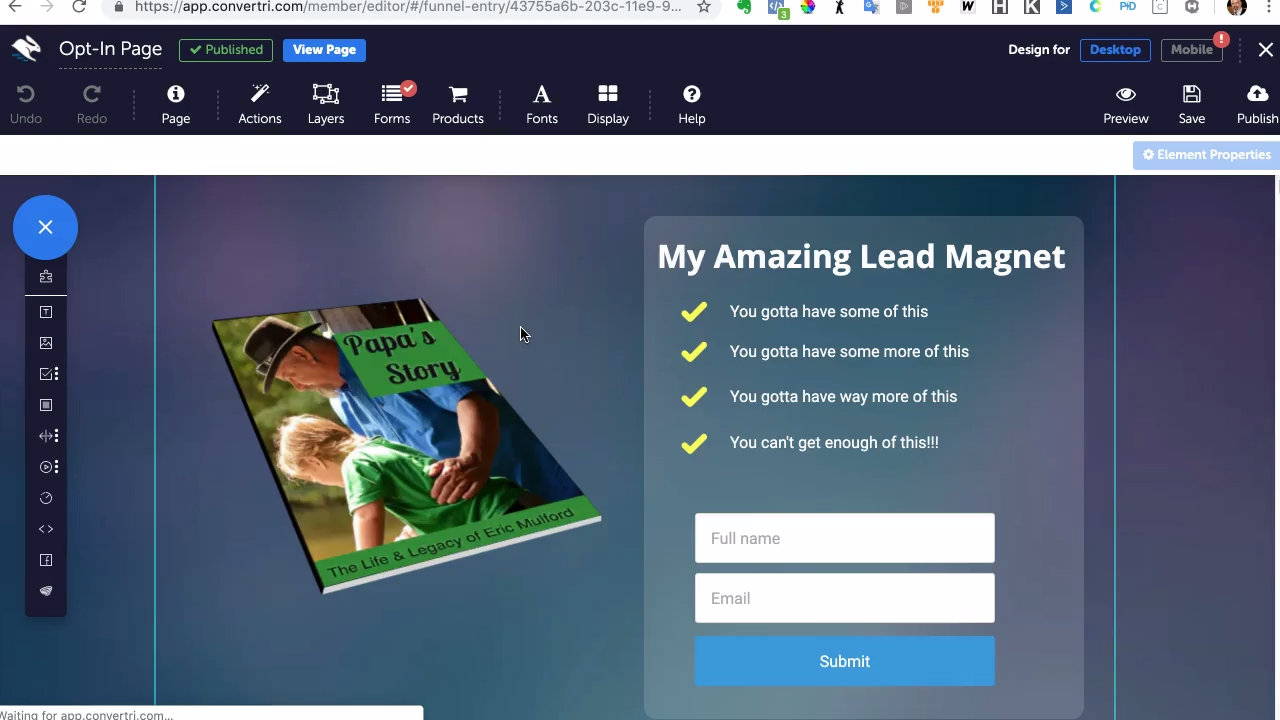 Convertri is a stand-alone sales funnel builder that also doubles as one of the best WordPress-based sales funnel software/ platform that enables the connection of sales pages into your sales funnels, giving you everything you need to run a successful business.
Thanks to Convertri, the creation of sales funnels is now a rather seamless process, and you only need to drag-and-drop the elements of the sales funnel to match your business needs. Convertri boasts a wide range of features that will enhance your brand's performance. These features include:
Drag-and-Drop Editor
To simplify the sales funnel creation process, Convertri offers a simple, and easy to use editor, meaning that you won't have to struggle with content sections or blocks. All you need to do is to select the element of the sales funnel that needs tweaking then work on it, as desired.
A/B split testing
As you work on creating the best sales funnel, you also get to test the sales funnel to ensure that the sales funnel used will help your business achieve its highest potential. Convertri's A/B split testing function allows you to run tests on those elements of the sales funnel.
AMP features
You might also like Convertri because it allows you to convert web pages that are created by Convertri into the best of Accelerated Mobile Pages (AMPs). The other features include high-quality integrations, one-click upsell pages, pop-ups, two-step opt-ins, page imports, and the WordPress plugins, among others.
Pricing
To access these features, Convertri offer three pricing plans and a 14-day free trial period during which you get to test-drive the features offered.
Pros
Intuitive design
Easy to use drag-and-drop editor
14-day trial period
AMP functions
A/B split testing
Cons
You have to install a WordPress plugin
It doesn't work as an independent sales funnel builder
It has few integrations
4. Leadpages
Leadpages is regarded as one of the best landing page builders on the market today thanks to its ease of use, and being feature-packed. But besides being an excellent landing page builder, Leadpages is also one of the best sales funnel builders.
Among other features, Leadpages allows you to click on links from its marketing channels from which visitors are directed to the landing page. Leadpages also provides a splash page that will popup when a user gets to the landing/ splash page. On this popup splash page, the visitor is converted into a prospect, and they enter the email address to be subscribers.
Besides lead generation, Leadpages will also streamline your sales funnel. As a sales funnel builder, Leadpages comes numerous templates for you to choose from. The available templates are professionally designed and easy to use. The catch, however, is that some of the templates for the funnel are dated and you can only find the best templates in the premium (paid) plan.
The other features offered by Leadpages include:
Drag-and-drop editing software – this editing function makes it easy for you to build your landing pages and customize the sales funnel for high conversions.
Popup boxes – Leadpages has design popup leadboxes which enhance the customization and the management of landing pages for your marketing campaigns.
Templates – there are templates for landing pages, opt-in forms, and pop-ups, among others.
Ads Creator for Facebook – Leadpages has an option for creating Facebook-specific landing page ads. With this, your site visitors directed to you from a Facebook ad will always land on this specific landing page.
A/B Split Testing – One of the new features offered by Leadpages is A/B split testing which allows you to test variants of your landing pages, and then run your campaigns using the variation of a landing page that promises the highest conversion rates.
Integrations – Leadpages wins big when it comes to its integrations with other marketing tools. It integrates well with analytics, email marketing, payment gateway, and CRM tools. These integrations will boost engagement rates and boost your sales.
Pricing
Once you try the 14-day free trial, you could sign up for any of Leadpages three plans (depending on your business size). These plans include the Standard plan for $37/month, the Pro plan for $79/month, and the Advanced plan for $321/month.
Pros
A/B testing
Great marketing and CRM integrations
Affordable
Tiered pricing
Hundreds of high-quality templates
Cons
It's not a complete sales funnel building process
You cannot have membership-based products or create courses.
5. Unbounce
Founded in 2009, Unbounce is known as one of the best platforms for creating landing pages. Unbounce not only allows its users to create single landing pages, but it also allows the creation, publishing, and the testing of multiple landing pages at the same time.
In addition to being the best landing pages creation tool, Unbounce is also one of the best sales funnel software on the market. So, if you are looking for a platform that allows you to develop high-converting landing pages, you could never go wrong with Unbounce.
One of the reasons for Unbounce's popularity and reputation is its easy-to-use drag-and-drop builder which you get to use soon after signing up. But this is not the only selling feature of Unbounce. Unbounce sports several other features discussed in detail below:
A sophisticated, but easy-to-use landing page builder
While most of the landing page builders on the market focus on creating simple landing pages, Unbounce takes things a notch higher by allowing the setup of unique and beautiful landing pages. All these are made possible by the drag-and-drop feature discussed above.
A/B Testing
How boring and hard would life be if you didn't have options – not knowing about different coffees, teas, pizzas, burgers, etc.? Wouldn't we all be stuck with the mediocre and wonder why things are not changing? Wouldn't business be stuck because we'd all end up doing the exact same thing while wondering why we were not hitting targets?
Well, thanks to A/B testing, this doesn't have to be the case anymore. A/B split tests allow you to create different landing pages and then pit them against each other in the real world to determine the landing page design with the highest conversion rate. The split tests allow you to run your ad campaigns using the best versions of landing pages. Unbounce makes all that possible.
In addition to the split testing function, Unbounce also features a landing page analyzer that will analyze the tested pages and identify potential problems that you can tweak easily. This analyzer generates a comprehensive report on the page's on-page request, speed, and loading times, among other features.
Integrations
As a top-rated sales funnel builder, Unbounce boasts integrations that will enhance your page's conversion rates. Mailchimp, Constant Contact, Campaign Monitor, and Active Campaign are some of the primary integrations for email marketing and email automations. Unbounce has other integrations for Salesforce, Webhooks, Infusionsoft, Zapier, Hubspot, and Marketo, among others.
Conversion tools
A fundamental feature of the sales funnel is its unique knack for converting visitors into leads and subsequently, customers, in the most efficient and seamless manner. Unbounce weaves everything together beautifully with its conversion tools.
For example, the customizable popups which you can set up to show up anywhere on your website, whenever you want them to. Creating these popups is quite easy thanks to the drag-and-drop function.
Besides popups, thee also are sticky bars (the fixed bar at the top of a web page). These elements enhance your audience targeting approach while enhancing engagement and conversions.
Pricing
Unbounce features three pricing plans; Essential, Premium, and Enterprise plans priced at $99/month, $199/month, and $499/month.
Pros
Great security installation
Easy to use, and create landing pages
A/B testing works greats
It comes with a landing pages analyzer
The help center offers great resources
It comes with several templates
Cons
It might be too costly if you are starting a small business
The customer support is only accessible during business hours.
Benefits of Sales Funnel Software
These are some of the benefits of the sales funnel builders, in case you are still on the fence as to whether you should use one or not.
1. It creates a circle of influence – one of the core roles played by the sales funnel is to enhance your business' and brand influence, particularly in the large market you are trying to tap into.
2. Creating visibility – the sales funnel will enhance the visibility of your brand and products to your target audience.
3. Increased awareness – thanks to the campaigns you run with the help of the sales funnels, you will increase awareness of your brand and products. You can do this using social media, press released, blogs, news media, as well as viral videos.
4. Attraction and Retention – Sales funnels make it possible for you to attract more leads by increasing visitors to your site. At the same time, the sales funnel will enhance your visitor retention rates with ease.
5. Leads conversion
6. Follow-ups with your leads
Conclusion
To wrap things up, we'll reiterate that the best sales funnel is the one that streamlines your online marketing processes. The selected software platform should offer the best-quality marketing features while being pocket-friendly.