We are always searching for a secret recipe or society that could catapult us into success and fame.
So, we find ourselves looking for the secret to this or that, and when it comes to running online businesses, we just can't seem to stop searching for what would be the recipe for the success of our online marketing campaign. Well, today is your lucky day.
After researching, evaluating the strategies used by industry leaders, and seeking advice from experts in the digital marketing world, we reveal the secret to success in online marketing. We are talking about lead generation.
And yes, we know what you are thinking – how is that a secret when it already looks like so much work? Well, as it turns out, the secret to success in anything (and everything) in life lies in ACTION. You must take specific, measurable, and reasonable actions that are time-specific for success.
The online marketing world is always changing, and the only way for you to build a reputable brand is by using the best lead generation.
Lead generation is a crucial process that's necessary for the generation of sales and the subsequent growth of your online business. Fortunately, there are several lead generation strategies you could use.
However, after studying the giants in the digital world and after listening to the digital marketing gurus, it's clear that one of the best lead generation tools is a landing page (professionally-designed).
Thanks to the relevance of landing pages, a lot has been shared about these standalone web pages that have been created to complete a specific function. What this means is that building a landing page is no longer a complicated process, and the best bit is that you don't need any technical expertise to create a high-converting landing page.
Whether you've created landing pages before or nor, in need of one or multiple landing pages, the internet is a gold mine of the landing page builders. These builders feature drag and drop functionalities, and you don't require any coding skills.
With all these tools, you can create a landing page that will successfully guide your site visitor to take specific actions, thereby helping you meet your goal. So, whether you wish to monetize your website/ blog or you just need to convert your site visitors, you have to invest in the best tools for building a landing page.
On top of all these, the best landing page builders will take away the pains of building a landing page using HTML or even WordPress.
Choosing The Best Landing Page Builder
Ease of use
There are no two ways around this; the landing page builder you choose must have easy-to-use visual functions. Today, one of the best (and the most common) visual builder is a drag-and-drop interface. This interface should be designed in a way that allows anyone to create a high-converting landing page without any coding skills.
A/B Testing/ Optimization
Your first copy or entire landing page might look great to you, and the second one might look even better. How do you know which of the two landing pages fits your audience's needs? How do you determine the landing page that will have the highest conversion rate? Easy. '
Run split A/B tests. The split tests allow you to run the two landing pages concurrently, in the process testing the behavior of your audience towards the landing page and picking the landing page that performs better than the other. These tests save time and money.
Therefore, it's essential for you to ensure that the landing page builder selected will offer the best results. And if the A/B split testing tool is absent in the builder, it should be provided by a reputable third party.
CRM Software Integrations
The primary role of a landing page is to generate leads and then convert those leads into sales. For these steps, the landing page builder you are considering should integrate well with software for storing those leads.
These integrations will then simplify the analysis of the data collected from your prospects. Therefore, the landing page builder selected should pull together all the data from your customers and then integrate that data with sales, customer management, and marketing software.
Analytics
In addition to the integrations and A/B testing tools, a great landing page builder will also come with analytics tools. These tools should offer detailed reports, conversion rates, sign-ups, and other views.
The Best Landing Page Builder
Now that you know what to look for in a landing page builder, below is a review of some of the best landing page builders on the market.
1. Leadpages
Boasting over 350 professional-quality and mobile-responsive templates for you to choose from, Leadpages easily scoops the top spot when it comes to the creation of landing pages. The features and the structure of Leadpages resonate with the business needs of your business, regardless of the size.
With a drag-and-drop editor, Leadpages simplifies customization of templates for forms and popups, allowing you to run your online campaign using custom landing pages, forms, as well as popups that represent your brand accurately.
The Leadpages analytics tool tracks the performance and the effectiveness of your landing page and its conversions. Therefore, you can capture your underperforming campaign tools and tweak them fast while re-creating and enhancing your top-performing landing pages.
But how much is Leadpages? Leadpages has a tiered pricing structure, and their prices are well-discounted, especially for the individuals who choose to commit to the annual payment plans. The pricing structure is in three plans – Standard, Pro, and Advanced for $25, $49, and $199/month.
So, if you are looking for a landing page builder that allows you to make bold statements using popups or homepage headlines, you might want to try Leadpages. Leadpages also boasts a wide array of features, including payment gateway integrations, mobile-friendly themes and designs, A/B testing, and the drag-and-drop functionality.
Pros
Great landing pages editor
High-quality A/B testing function in the new editor
Affordable pricing
It has several lead generation features
Numerous, essential marketing automation integrations
Cons
A/B testing is missing from the basic/ standard editor
The best templates are not free
Customization is limited
2. Unbounce
Competing for the top spot with Leadpages is Unbounce. Unbounce is a feature-packed landing page builder that's quite popular among online businesses, content creators, and digital marketers.
With simple, beginner customization functions, as well as advanced customization functions, and the drag-and-drop editing functionality, Unbounce offers all you need and more. Unbounce allows you to run A/B tests whether you are on the basic or the premium plan.
One of the biggest standout features of Unbounce, however, is its dynamic text replacement (DTR) function. This is a huge feature, and if it's the first time you are hearing about it today, you should know that DTR is the biggest time-saving feature you could have today.
The DTR function allows the replacement of landing pages' keywords automatically, depending on the search query of your site visitor. DTR saves time in that you only need one(or a few) landing page(s) which will change automatically and dynamically, depending on the keywords used by your online users.
Besides the dynamic text replacement function, Unbounce also features exit intent and overlay CTA functions which will increase your potential for conversion rates.
There also are numerous integrations for CRM platforms and email marketing/ automation. Thanks to these integrations, all leads collected and converted will be stored and analyzed in the appropriate tool to ensure automation of the entire marketing process.
Unbounce offers a 14-day free trial period during which you get to test-drive this landing page builder to determine if it's a right fit for you or not. If you think that Unbounce is an ideal fit for your business, you could subscribe to its plans. There are different plans based on your business size and needs.
The plans range from $79/month in the base level plans to $499/month for the enterprise-level plans.
If you are an agency or a busy online business looking for the best online marketing/ lead generation tool, Unbounce might be the right pick for you.
Pros
Easy to use
An impressive dynamic text replacement system
You don't need technical/ coding skills
Easy editing and customization
Numerous integrations
Professional-quality templates
The editor is flexible and powerful
Excellent A/B testing option
AdWords integrations
Great functions for visitor stats
Cons
A bit of a learning curve
It's a bit pricey
3. Instapage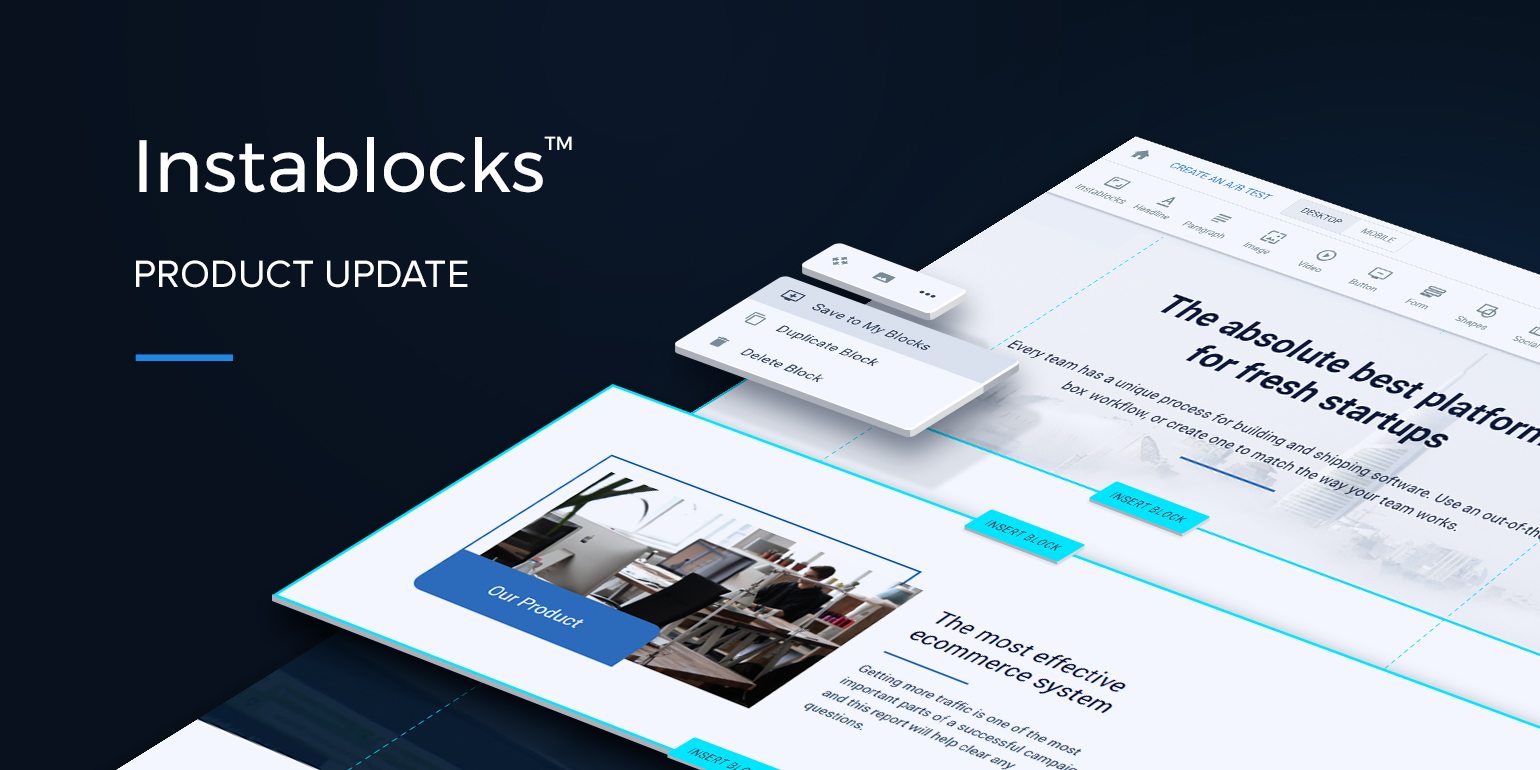 Instapage is one of the best online tools for creating landing pages, collecting email addresses, growing your list, and growing your online sales. This cloud-based service allows you to not only build landing pages but to do that without any coding skills.
Thanks to Instapage, you can create high converting webinar pages, squeeze pages, as well as confirmation and Thank you pages. In addition to the chance to create different landing pages, you also get access to free and editable pre-made templates that will boost your sales easily.
Speaking of templates, Instapage offers at least 194 high-quality landing page templates. For editing and customization, there's a drag-and-drop editor which allows you to change all the elements of your landing page templates from the buttons and headlines to forms, images, shapes, and videos.
Available integrations include simple but essential integrations for email marketing like ConvertKit, ActiveCampaign, and Mailchimp, among others. Instapage's landing pages are mobile-responsive meaning that all your online users will have access to your landing pages and take the necessary action, as long as you CTAs offer that extra nudge.
The other impressive feature of Instapage is the free hosting service provided on the Instapage server. These hosting services include the ones for Facebook and your WordPress blog. For analytics, Instapage is designed to allow you to test and track the performance of your campaigns with ease. You can analyze data from Facebook Ads or even Google AdWords.
On top of all these features, Instapage has a new feature called Instablocks. This feature allows you to create multiple landing pages with ease – just copy and then edit the copy on every landing page.
Instablock allows you to create different elements like pricing tables, testimonials, and headers with ease. And the best part is that you don't have to recreate landing pages from scratch all the time.
Regarding pricing, Instapage is reasonably priced, and it's available in different plans ranging from the basic Core plan that costs $68/month, the Optimization plan for $113/month, and the Team/Agency plan for $203/month plan. If you need more resources, you might want to sign up for the customized Enterprise plan.
Pros
It works fast in creating landing pages
It boasts great analytical functions and tools
The drag-and-drop editor works great
It's ideal for use by both experts and beginners
Google AMP support available
Instablocks saves time
It offers detailed data attribution
Great collaboration tools
Cons
It lacks a pop-up option
It's not as flexible or powerful as Leadpages of Unbounce
A/B testing is unavailable using
4. Landigi
If you are looking for one of the best landing page builders and you lack programming skills, Landigi could be the right fit for you. This landing page builder is easy to use, and it boasts over 200 templates.
With the simple drag-and-drop editing interface, you can create new landing pages in just minutes. And thanks to Landigi's A/B testing function for testing and optimization, you can create different landing pages and then use the one that promises the highest conversion rate and user satisfaction.
Landigi is also one of the best landing page creators thanks to the company's excellent customer services, as well as the training offered through webinars and videos which ensures that you have everything you need to create the best landing pages, and also boost conversions.
With a template library of over 100 professional-quality landing pages, forms, an easy to use editor, and a collect visitor data system, you will be steps ahead of your competition in finding qualified and high-converting leads.
It's also important to note that the efficiency of this landing page builder comes from its design which combines both the traditional landing page builders with the modern lead generation services. 'This combination might make Landigi somewhat complicated to beginners, but you will soon get the hang of things.
Landigi's pricing is variable, and it's designed to meet your unique needs with the flexible pricing model that ranges from $19/month to as high as $499/month in the advanced plans. Landigi also offers a free plan.
Pros
Unlimited landing page creation
Works with most plugins
Easy to use
It has numerous integrations
Affordable
Cons
• The support could be better
5. ClickFunnels
ClickFunnels is a top-rated all-in-one online marketing tool that is rapidly changing the online marketing world by guiding the business through the development of viable product ideas, the development of products, and the sale of the products.
While ClickFunnels streamline the entire sales funnel, ensuring that your site visitors are converted into leads and eventually customers, one of the critical features offered by ClickFunnels is the landing page building tool. This is a highly intuitive tool that is not only easy to use, but also comes with numerous high-converting templates.
The other reason why ClickFunnels is a top-rated tool for creating landing pages has to do with the fact thatClickFunnels is GDPR-Compliant. What this means is that ClickFunnels adheres to the industry's best practices and you can trust the platform.
The other impressive features of ClickFunnels include the fact that it offers professional-quality templates and themes, a drag-and-drop editor that is powerful and easy to use, and the editor also features a simple WYSIWYG editor.
It also serves as an email autoresponder software that offers conversion tracking, A/B split tests, several sales funnels, and access to membership sites. Regarding integrations, ClickFunnels boasts sophisticated integrations for platforms like Drip, Aweber, Mailchimp, Sendlane, ConstantContact, and PureLeverage, among others.
You could also integrate shopping cart software on ClickFunnels. But how much does it cost? ClickFunnels has a basis and an Etison enterprise plan that go for $97/month and $297/month respectively. The Etison plan is a value pack that offers features like Backpacks and Actionetics.
Pros
It features pre-built sales funnels
Easy to use
Great management tools for sales
A/B testing
Saves you money
Quality landing page designs
Cons
Customization options could be better
It's expensive.
6. OptimizePress
If you are looking for a landing page builder that will allow you to create high-converting and well-optimized landing pages and optimized sales pages, blogs, or membership sites, you might want to start your search with OptimizePress.
This landing page builder offers impressive features for split testing landing pages, page customization, as well as the creation of opt0in forms, among others. To ensure that OptimizePress meets the needs of different clients, this platform has three pricing models – Core, Publisher, and Pro, going for $97, $197, and $297 respectively while giving you access to 3, 10, and 30 sites.
The other features of OptimizePress include superior integrations for online payments and the fact that you can use this builder to create the best sales pages, lead generation pages, and sales pages, among others. Its library has several graphic elements, as well as plugins that enhance customizations.
OptimizePress will also integrate with email marketing services like ActiveCampaign and MailChimp.
Pros
It's cheap but it has excellent features
It comes with multiple free templates
The builder is easy to use
It integrates with other software well and easily
Cons
The designs of templates are dated
There's no standard format for saving
7. GetResponse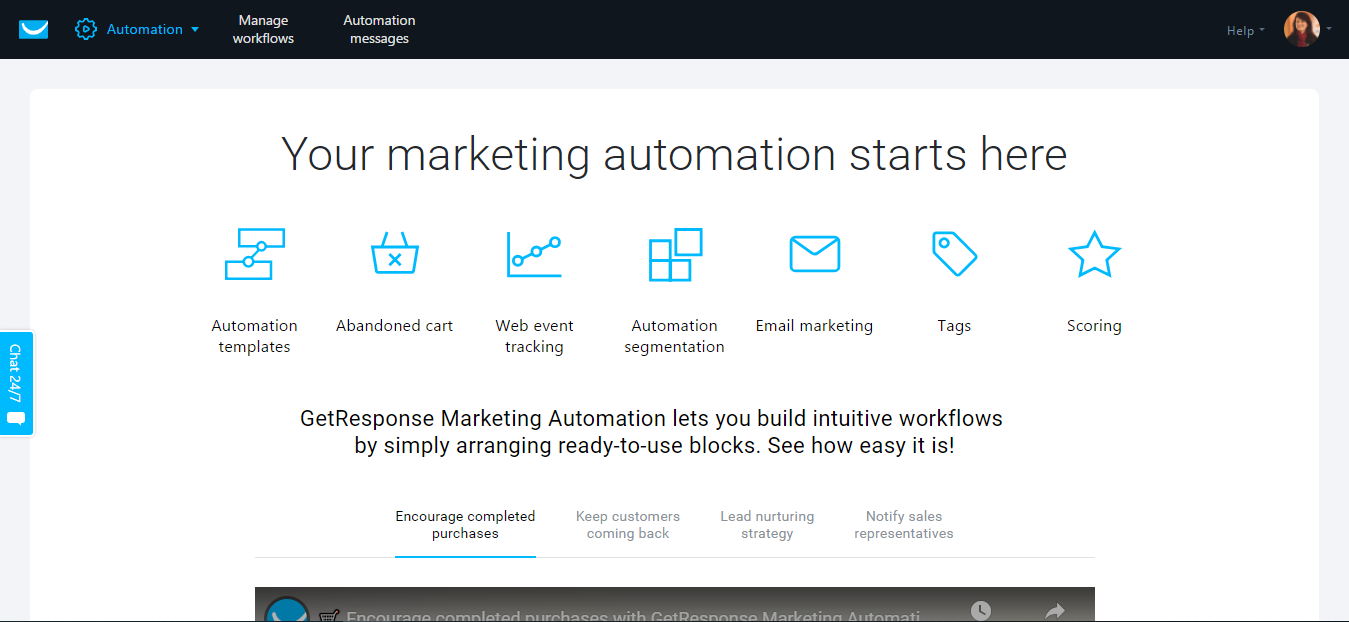 With prices ranging from $15/month, GetResponse is one of the other great landing page builders around. Although GetResponse is largely known as a leading email marketing platform, one of its little-known but essential functions is the creation of landing pages.
As one of the best email marketing software around, GetResponse allows you to run online marketing campaigns, create email newsletters, run followup email autoresponder, and you could also use it to create online surveys.
GetResponse's landing page creator allows you to create high-converting landing pages and the best part is that you also get access to a free hosting subdomain from GetResponse, if you need to. The landing page creator is quite intuitive thanks to its drag-and-drop editing tool.
To ensure that the created landing pages have the highest conversion rates, GetResponse also offers A/B split testing. By testing landing pages to your audience, you get to put out the landing page that promises the highest conversion rates.
Thanks to A/B split testing; you can get to try different opt-in forms, newsletter signups, landing page copies, as well as CTAs. On top of the landing pages, you can also use GetResponse to create email marketing campaigns and to create webinars.
There's also an analytics feature which allows tracking of performance and the consequent improvement in your performance. Integrations include online payment gateways for PayPal.
In the startup plan, GetResponse gives you access to the best of email marketing tools and landing pages creation tools for a maximum of 1000 response. And if you need more features, then you have to pay more in the pro-plan. The advanced plans offer more landing page building options and capabilities.
Pros
Easy to use landing page tools
Landing page creation is fast
A/B testing
It has an Autofunnel function
Great for email marketing campaigns
Great integrations
Cons
Its deliverability could be better.
8. Lander
Lander is quite a powerful, feature-packed tool for creating landing pages, and the best bit is that it gives you great control throughout the landing page creation process. While the learning curve is a little steep when it comes to
Lander, once you get the hang of things, you soon realize that it's actually one of the best landing page creators. And thanks to the trial period, you don't have to worry about losing money as you try to learn how to use this tool.
Lander is also impressively powerful, and the best bit is that there is a mobile version of this landing page builder. The editor is easy to use, and the pricing is just right, although you have to pay more if you need access to more features. Lander also offers custom code editing, and you can also create Facebook landing pages.
There's access to a decent number of clean, modern, and professional templates that are mobile responsive. The selections also cover different industries, and you can customize everything on the landing page from the header to the footer, and even the appearance of the button.
The Basic plan costs $16/month, the Professional plan $42/month, and the Pro Plan goes for $83/month. For the features accessed, Lander is relatively expensive.
Pros
Easy to create landing pages
Access to an unlimited array of landing pages
The pages are mobile-responsive
Great analytics and reporting system
Cons
Conclusion
Landing page builders each have their unique feature, but the builder you choose must offer all the features you need to ensure the success of your business, regardless of the size.